John Sturgess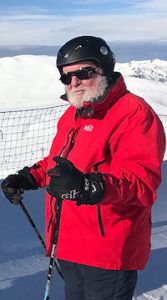 As you know, unfortunately John Sturgess passed away at home on the 8th January 2021 after a short illness.
We have just been informed that John's cremation will be held at the Skipton Crematorium BD23 3BT at 2.40 pm on Friday 5th February. Obviously in the current situation attendance is severely limited. Yorkshire Slalom will be represented, but it will not be possible for all those that would wish to attend to be there.  Arrangements have been made to Live Webcast the ceremony. The following details have been provided by the undertakers. 
You will find below the Username and Password for this Live Webcast along with the times it will be available to view. Please distribute this username and password to family and friends. They will be able to login to our website at any time to view a Test Webcast which we recommend they do in plenty of time before the service, during the service window they will be automatically redirected to the Live Webcast of the service.
              Username          Niti1178             
              Password           073354
              Service Date      Friday 05th February     
              Service Time      2:40pm
              Service Viewing Time     2:35pm – 3:25pm           
              Website              https://www.obitus.com/
Once the viewing window has passed the Live Webcast will then automatically close and a message will appear saying "This funeral service has now finished". It will be available after 12th February until 17th March using the same login details.  
The family do intend a larger event once restrictions are lifted, so there will be an opportunity for every one to remember John later in the year. We are collecting memories and anecdotes about John – see the details in the link below.