Yorkshire Slalom Training & Events
Clubs and coaches from the region come together to provide slalom coaching days and training camps for paddler in the region.  Training is open to paddlers of all ages and abilities (depending on the venue) and rely on volunteer coaches from clubs across the region giving up their time to run these sessions. Regular regular training days run through out the winter months at various venues, and week long training camps run at Grandtully in the spring and in August.
If you are coming to a training day, please email training@yorkshireslalom.co.uk with your name, a mobile number and current division. This helps us to plan groups for sessions in advance, and to let you know if there are last minute change of plans or cancellations due to river levels.
Sowerby Bridge Training Day
February 2 @ 10:30 am

-

4:00 pm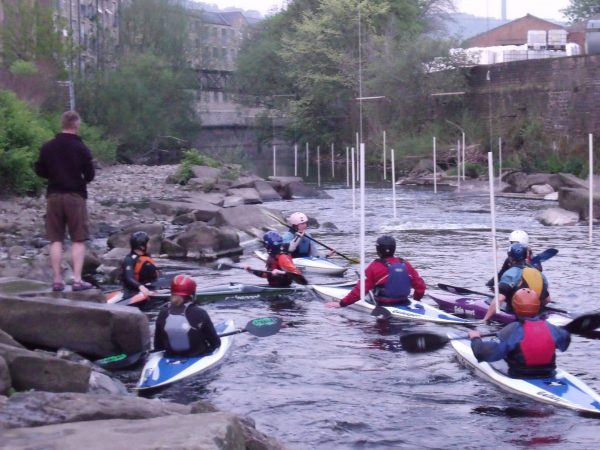 Yorkshire Slalom training at Sowerby Bridge.
Aimed at Div 2, 3 and 4 paddlers. If you are unsure whether a training venue is suitable for you, please discuss this with your club coach.
Meet at 10:30 for an 11am start.
Please note: there is no parking available in the mill complex – it is residents only.
If you are attending this training day please email training@yorkshireslalom.co.uk with your name, mobile number and division.  This enables us to plan groups in advance and let you know if there are any last minute changes or cancellations due to water levels.
All those attending Yorkshire Slalom training days must complete  Safety Information Form and complete our Code of Conduct. These need to be updated each year.
Access and Parking at Sowerby Bridge training
As you may or may not know Halifax CC are in a residential mill complex, so a few reminders for the upcoming session at Sowerby Bridge as we will have a lot of people and boats on site:
Parking – we don't have any, please park in the market car park (see map) and carry your boat and kit to the club – it's no further than carrying it at a race. The car park is free on Sunday's
Boats – As we will have a lot of boats on site, please take your boat straight to the get on area so it is not in the way.  Between session please take your boats back up to the get on area.
Carrying boats – the mill area is full of residents cars, please be careful carrying boats through this area. Parents, please assist supervise your children
Facilities – we have changing rooms, showers and toilets in the downstairs section of the club, and a kettle and mircowave upstairs. We'll also make space for people to gt inside upstairs over lunchtime
Residents Parking – most people have moved back in after last year's flooding, so please do not leave boats and kit (or cars) in residents parking spaces – especially not in the space outside the downstairs changing rooms!!
See the map for parking, walking route from the car park and location of the river access and exit.
Myself and other club members will be there to point people in the right direction, so please follow instructions to get boats etc to where we need them to be.
Thanks
Les